The Holidays are an important time of year to most folks. It's that time of year to celebrate with friends and family and pump up the decorations all through the house. So, what if you have your home on the market during the holiday season? Does that bring all the festive tree-trimming and mantel-swagging to a complete halt? The short answer is 'NO', but some new rules of engagement apply. Here are some tips on how to merge holiday decorating with home staging so that everyone is happy.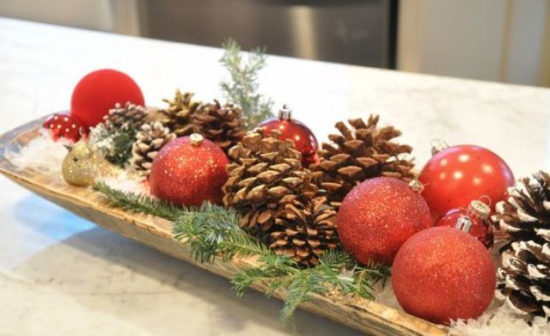 Rule #1: Don't go overboard.
Dial back the holiday décor. This is not the time to display all the family ornaments and personalized holiday memorabilia. Instead of putting up your typical 7' Christmas tree think of some out-of-the-box alternatives. Greenery in vases, a glass bowl filled with blingy ornaments, boxwood or magnolia wreaths and stacks of birch wood near the fireplace all set the mood for a festive and beautiful holiday season without falling off the deep end.
Rule #2: Bring on the layers.
With colder weather on its way use layers to add a level of sumptuousness to your home. Add extra pillows and throws (think velvet, textures, faux fur, fleece, tartans, tassels, pom-poms) to your sofas and chairs for a cozy, homey feel that prospective buyers will love.  Don't forget the master bed: use plump feather-filled comforters at the foot of the bed along with flannel sheets and yes, another throw! Have you seen those amazing chunky cable knit blankets and throws? These on-trend blankets will make you and your family happy and warm; your prospective buyers will want to snuggle right in!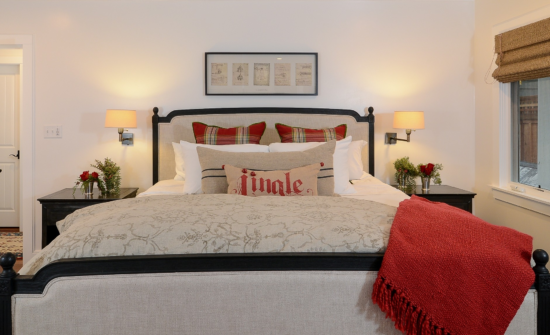 Rule #3: Bling it up.
The Holidays are a time for entertaining. What better time than now for showing off your blingiest décor along with your home's potential? Showing certain rooms in your home as "party-ready" areas is a great idea and will give buyers lots of helpful hints on how your home can work for them at these special times of the year. Pull out the decorative trays. Use one in the dining room filled with crystal flutes, a bottle of champagne and some faux sprigs of holly. Have another tray in the family room that holds ceramic mugs, hot cocoa packets, candy canes and cute little bottle brush trees. Ready for some fireplace time!
Creating lifestyle suggestions is an integral component of home staging. Take a huge tip from all the large décor companies. Their approach to marketing their products is by creating lifestyle stories that consumers emotionally connect to. Your home is the biggest product you will ever buy and sell. If you create a compelling lifestyle story, they will come! Happy Holidays!