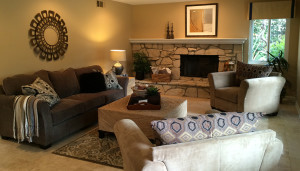 We have all heard the message: It's "location, location, location" that sells a house. Just as important is "emotion, emotion, emotion"! You may have experienced it yourself, that feeling you get when you walk into a house and find yourself breathing easier, relaxing more, smiling uncontrollably, thinking to yourself, "I want to live like this!"
Prospective buyers won't get out of the car if they don't like the look of it from the outside. And they won't drive to the property if they don't like how it looks online. It's crucial that the listing agent and seller alike have a clear-cut strategy for showcasing a home before it goes on the market.
This is where an effective staging can help. Winning over buyers can be as simple as re-creating spaces – both inside and out – that will trigger an emotional response. The successful staging is one that creates a home that makes a statement: it looks fresh, clean, and airy, is in move-in condition, and effectively showcases the critical areas of the home. In essence, staging gives the buyer a glimpse of who they could be and how they could live a better life if they purchase your property.
But Doesn't It Cost a Lot of Money?
Staging your home can cost as little as a few hundred dollars for a comprehensive written staging evaluation. This small investment can mean several thousands in your pocket. How? By selling quicker than your competition. For instance, a recent comprehensive study for 2009 by the Real Estate Staging Association compiled the following impressive data:
The study showed that 126 homeowners had their property on the market an average of 263 days before they decided to stage. 263 days = 9 months
After being on the market for nearly nine months each, these same 126 homeowners decided to try staging their property. As a result, after staging the homes sold on average in 60 days.
This is 78% less time on the market.
What if these same homeowners had decided to stage their homes right from the beginning? Using this formula we can see approximately how much money they would have saved.
If their mortgage was: $1800.00/mo
If their direct expenses were: $300.00/mo
Total carrying cost per month: $2,100.00
$2,100.00 x 9 months = $18,900.00!
Since the homes were on the market on average 7 months longer than necessary, here's what they would have saved:
$2,100.00 x 7 months= $14,700.00
By not making an initial investment of a few hundred dollars, nearly $15,000 was lost.
• • •
We look forward to learning more about your needs and preferences, and invite you to contact us now.